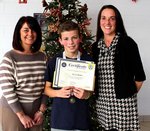 Principal Wood, Carsen Bartow, Mrs. Balcom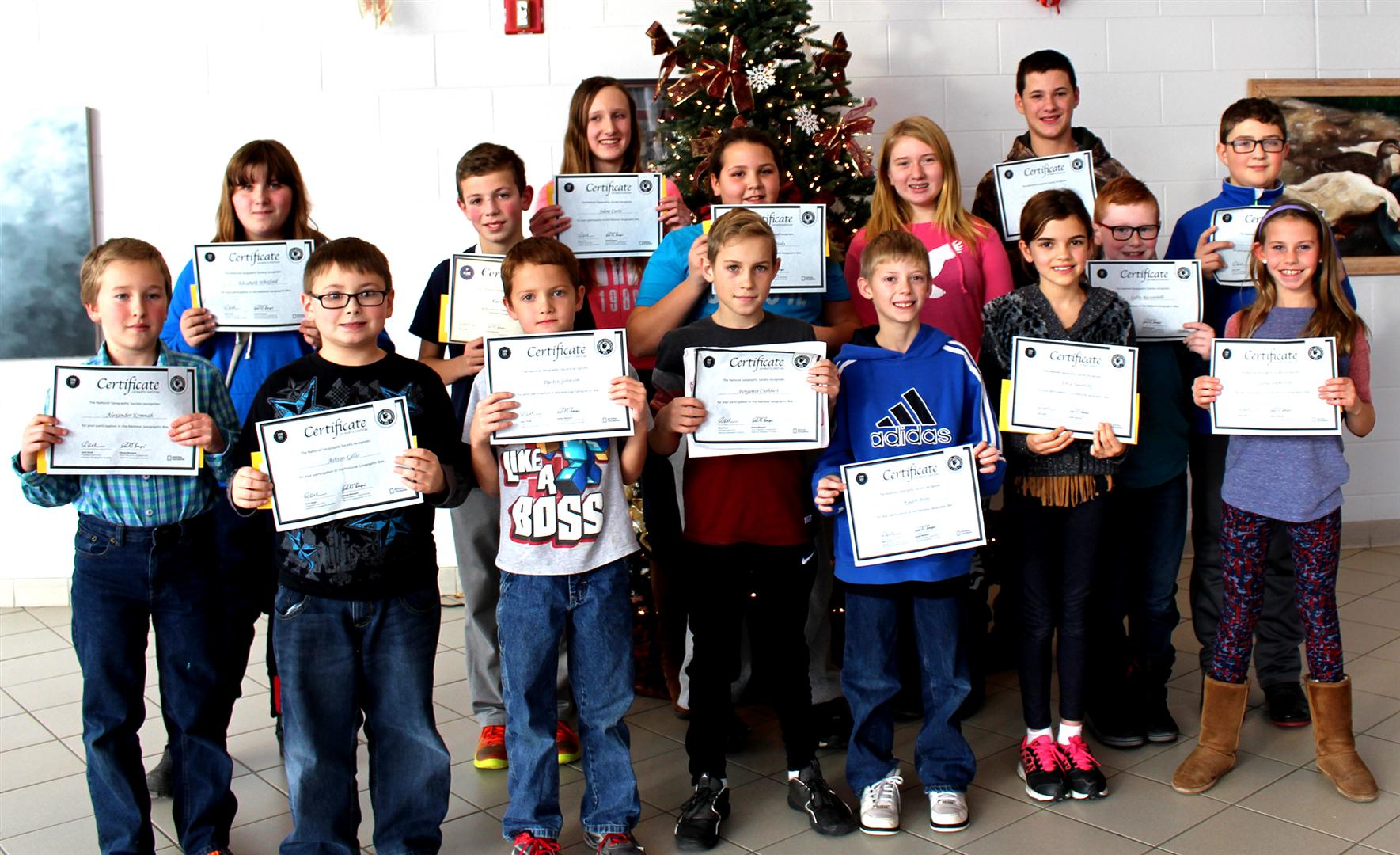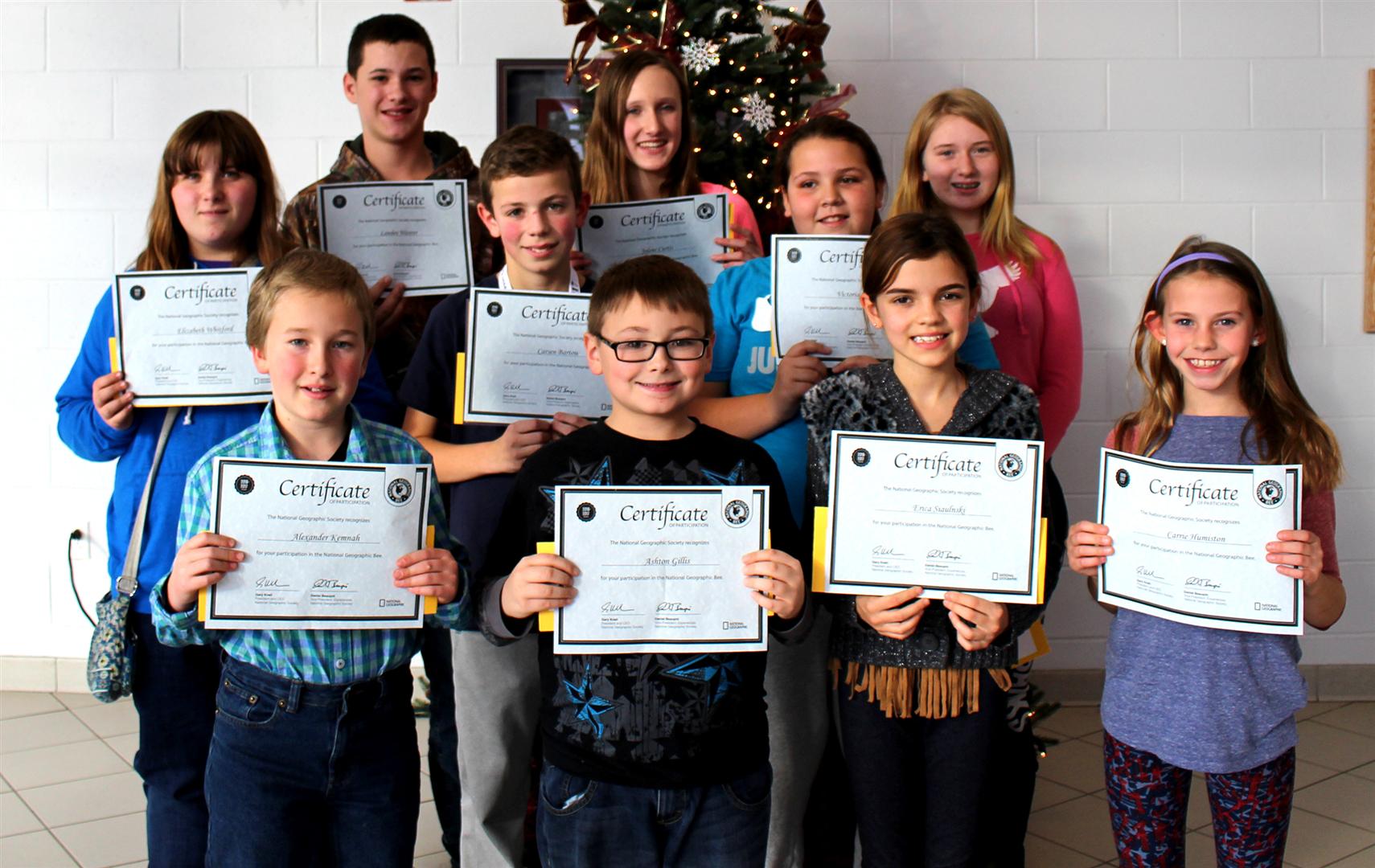 Geography Bee Classroom Champions & Alternates
Geography Bee Classroom Champions
Argyle Central School District students competed in the National Geographic Geography Bee on Monday, December 5, 2016.
The competitors were the winners of each classroom grades 4 through 8. They were: Carsen Bartow (6th grade), Victoria Brady (6thgrade), Jolene Curtis (8th grade); Ashton Gillis (4th grade); Carrie Humiston (5th grade); Alexander Kemnah (4th grade); Lyndsey Mine (7th grade); Erica Siaulnski (5th grade); Landen Weaver (8th grade); and Lizzie Whitford (7th grade).
The alternates were the second place winner in each classroom. They were Lily Anderson (6th grade); Kaden Blais (5th grade); Ben Cuthbert (5th grade); Madison Gillis (8th grade); Dustin Johnson (4th grade); Colby Ricciardelli (4th grade); Sean Smith (7th grade).
Principal Wood welcomed the audience comprised of fellow students and family members. Mrs. Leslie Balcom, served as the moderator and explained the rules. After two missed questions the competitors would be excused from the stage and fifteen seconds was allotted for each question. The time was kept by Mrs. Jamie Morency. In the first round, students were each asked a different question that they answered orally, and other times the entire group was asked the same question and they wrote down their answers and displayed them simultaneously. Judges Mrs. Cathy Catalfamo and Mrs. Peggy Seese kept score, with Mrs. Balcom thanking and politely excusing competitors after two misses. After seven rounds, three students Carsen Bartow, Victoria Brady, and Lyndsey Milne remained, with only two spots available for the championship round. The competition continued amongst the three, and in the last round both Victoria and Lyndsey gave their second incorrect answer. Carsen answered correctly, and advanced to the championship round. Victoria and Lyndsey went into a single elimination; competing against each other to determine who would challenge Carsen for the school champion title. After three rounds, Victoria was deemed the winner. For the championship round, both students were asked to write down their answers to the same three questions for best of three. Both students answered the same number of questions correctly. They moved to a tie-breaker round using the same format which Carsen Bartow emerged as the champion. Carsen now has the opportunity to take an online test to qualify for the State competition.
Each year thousands of schools in the United States participate in the National Geographic Bee using materials prepared by the National Geographic Society. The contest is designed to encourage teachers to include geography in their classrooms, spark student interest in the subject, and increase public awareness about geography. All school winners are eligible for win the national championship and the first prize $50,000 college scholarship at the National competition May 15-17, 2017 in Washington, D.C. Argyle Central School District has the honor of sending two students to the State Competition; Sean McKernon in the 2010-11 school year and Robert McWhorter in the 2004-05 school year.